Maryam nabbed in sugar mill case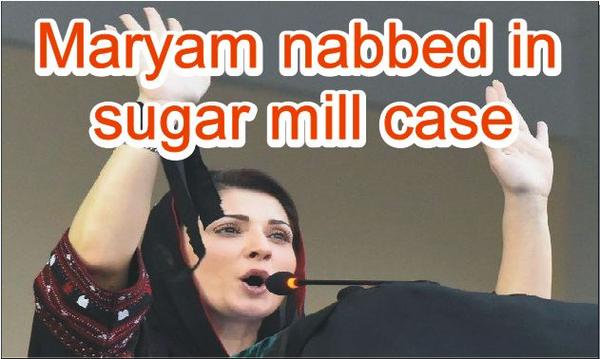 LAHORE:  The National Accountability Bureau (NAB) on Thursday arrested opposition leader Maryam Nawaz, the vice president of the Pakistan Muslim League-Nawaz (PML-N), at Lahore's Kot Lakhpat Jail where she was visiting her incarcerated father, former prime minister Nawaz Sharif.
According to an official statement issued by NAB, Maryam and her cousin Yousaf Abbas Sharif were taken into custody in connection with the Chaudhry Sugar Mills (CSM) case. The government has accused the Sharif family of using CSM for money laundering and availing millions of rupees in subsidy without actually exporting sugar.
Maryam and Yousaf will be subjected to a medical examination and presented before an accountability court on Friday (today), the statement added.
The PML-N vice president was supposed to appear before NAB on Thursday for questioning in the CSM inquiry but she sought more time for submitting her response and went to meet her father in jail instead. She was arrested for not appearing before the anti-graft watchdog.
The daycare centre at the NAB headquarters has been declared a sub-jail and female police officials have been deployed for Maryam's security.
A NAB team also raided the home of Maryam's uncle Shehbaz Sharif, the PML-N president and leader of the opposition in the National Assembly, in search of another one her cousins, Abdul Aziz, an official said on condition of anonymity.
Sources told The Express Tribune that Shahid Rafique and Aftab Mehmood, both accused in the CSM case, had become approvers.
Lahore accountability court Judge Muhammad Naeem Arshad has approved the transitory remand of the two approvers and allowed the anti-corruption watchdog to present them before the NAB chairman.
They have been detained in the Lahore district jail.
Special Assistant to the Prime Minister on Accountability Shahzad Akbar had alleged on Wednesday that the Sharif family used CSM for money laundering and availed millions of rupees in subsidy without actually exporting sugar.
Addressing a news conference, Akbar said the sugar mill was set up in 1991 as an offshore company when Nawaz was the prime minister and the family had obtained a loan of $15 million from Bahrain to purchase its machinery.
"The mill was established even before the loan was released," he added.
The prime minister's aide said in 2008, the mill's shares were transferred to Maryam Nawaz, who later transferred around seven million of them to Yousaf in 2010.
Maryam had appeared before NAB on July 31 to record her statement in connection with the 'dubious' business transactions of CSM.
Before her arrest, the PML-N vice president had sought more time from NAB in response to its call up notice to "submit a comprehensive and accurate reply".
"Please appreciate that I entered appearance on 31-07-2019 in compliance with the call up notice dated 23.07-2010 and furnished whatever information was within my personal knowledge. However, the above cited call up notice does not acknowledge the same," she wrote.
"Please appreciate that on the said date I had requested for reasonable time to submit comprehensive and accurate reply as the same is to be prepared in consultation with the record which is not readily with me because I am nor share holder since the year 2016. I reiterate my request for reasonable time to trace the requisite record and assure to extend full cooperation to facilitate the captioned inquiry without prejudice to all my legal rights."
Maryam's arrest in Lahore comes just a day after authorities took former finance minister Miftah Ismail into custody in the LNG terminal case.
Last month, former prime minister Shahid Khaqan Abbasi and former president Asif Ali Zardari were also arrested.
Maryam's father, who served as prime minister three times, was sentenced in 2018 to seven years in jail for corruption.
She was also convicted in the Avenfield properties reference for seven years. The Islamabad High Court, however, had suspended the sentence and ordered her release.
Maryam is one of the few opposition figures who openly criticise Prime Minister Imran Khan, accusing him of censoring rallies and press conferences held by her party.
Last month she made public a video which purportedly showed the judge who had convicted her father in a corruption case saying he was blackmailed into delivering a guilty verdict against Nawaz.