A high-level Congressional delegation of the United States called on Prime Minister Imran Khan on Monday to discuss various issues of mutual interest, including the volatile situation in Indian-occupied Kashmir, a statement issued by the premier's office said.
Senators Christopher J. Van Hollen and Margaret C. Hassan are visiting Pakistan to obtain first-hand information and carry out an assessment of the evolving situation following India's unilateral move to downgrade the autonomy of occupied Kashmir on August 5.
During today's meeting, Prime Minister Imran appreciated the "continued active interest" of the US Congress, including of the two visiting senators, in the tense situation of occupied Kashmir.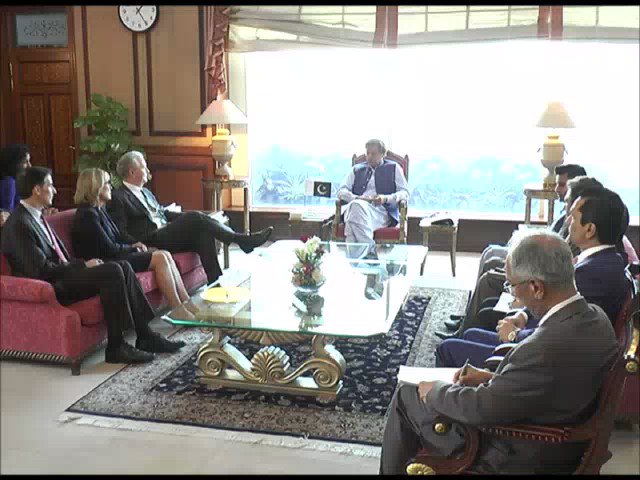 According to the press release, the premier said that the lockdown in occupied Kashmir which has been in place for over two months, refusal of Indian authorities to lift the curfew, and acute shortage of basic necessities including medicine and food in the region were grave violations of fundamental human rights and international humanitarian law.

He said the international community must "take cognisance of the grave consequences of Indian actions for regional peace and stability and should act immediately".

The two senators, who visited Azad Jammu and Kashmir on Sunday and held meetings with the president and prime minister of AJK, said that they "shared concerns on the current humanitarian situation caused by Indian actions", the statement said.

The American lawmakers also expressed their resolve to continue to remain engaged on the Kashmir issue.

On Saturday, Senator Hollen had told reporters in New Delhi that Washington was "closely monitoring the humanitarian situation" in the disputed Himalayan region.

The House Foreign Affairs Committee is scheduled to hold a hearing on human rights in South Asia later this month and the Kashmir issue is expected to figure prominently in the deliberations, he had said.