What is the 5th Generation Warfare? The war Enemies Imposed on Pakistan- Opinion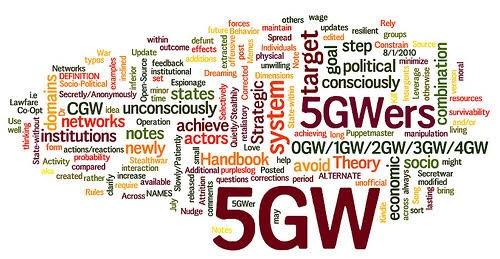 When the war of independence was at its peak in Kashmir (now part of Pakistan), the Pakistani government had started operating a mobile radio station at "Tarar Khal" that registered the highest level of success compared to any other media in the world of propaganda.

Literary veterans like Mumtaz Mufti and Qudrat Ullah Shahab used to broadcast their opinion through this radio station.

These transmissions were pivotal in infusing a new wave of liberation among the oppressed Kashmiris who stood up against the Indian brutality. Moreover, the transmissions were broadcast in Hindi language as well which served as an impetus for Indian citizens to decry their regimes.

The success of this radio station can be gauged from the fact that Indian forces tried to strike down the station, however, as the station was mobile and usually operated through the far off places in forests, the Indian bid could not be materialised. The same channel mocked the Indian officials for staving off their bid, leaving them fuming.

But now the trends of information warfare have changed and currently even if the troops on the ground engage in this strategy, it would not be successful until the masses spring into action. India has initiated a media campaign worth Rs 7 billion against Pakistan by utilising all the sources including television, newspapers, books, social media, films, dramas and radio.

As part of the campaign, India has already launched a multimedia website and app of its Balochi radio service. The radio station which broadcasts its transmission in Balochi language is airing the manipulative statements of the senior officials of RAW to incite the Baloch community to stand up against Pakistan. This propaganda can be disastrous as the same technique was used before the fall of Dhaka. India has also started a tv news channel called "Zee Salam" which broadcasts in "Urdu" language serving the same purpose. US has also been operating news multimedia in Pakistan for the sole purpose of spreading the biased and misleading news.

India is spending a huge amount of money to use journalists from the foreign and local owned news agencies operating in Pakistan for spreading misinformation and propaganda, and by inciting hatred and division within Pakistan. But thanks to the non-breakable trust and selfless love of the Pakistani people for their country, that strategy has so far been unsuccessful. Yesterday we heard the DG ISPR Maj Gen Asif Ghafoor saying "We must prepare ourselves for the 5th generation warfare being imposed on us by the enemy. All Pakistani media outlets including social media need to be aware of this threat and act accordingly."

This is the 5th generation warfare he was referring to, it is happening right now on TV, Radio and Social Media. India is using Social Media as the major battlefield at this stage by giving incentives, including financial gain, to some of Pakistan's prominent social activists, ethno nationalists, human rights activists and politicians to promote India's agenda. To support this strategy India has created about 350K+ "Bot" profiles on Facebook, Instagram and Twitter under Pakistani names, mostly with Baloch and Pashtun surnames. These can be seen following and sharing all the anti-Pakistan news agencies or journalist posts. So whenever you see a phony journalist's posts spreading misinformation it will get Shares within seconds from those "Bot" profiles.

(I will write about the social media "bots" some other time that how they operate and works)

Prior to this, India already won the battle on electronic media as Pak's famous television channels keep on airing Indian culture and civilization glossing over Pakistani ideology and values. This electronic media triumph is the reason behind the inclination of new generation Pakistani's towards India.

Now the battlefield is the social media and many of Pakistanis are voluntarily taking the ground so well that Indian Home Minister Rajnath Singh was compelled to ask Pakistan to stop destroying India through its digital activities.

Although the admission of Indian legislator is a vindication of Pakistan's success, even then the efforts regarding information warfare are not up to the mark. Pakistan Security agencies have not started any investments in the Cyberwar, India is cleverly using Afghanistan to keep Pakistan's Security agencies busy on its borders while India setup their Cyber Army.

Looking at the statistics, we come to realise that 206 million people use social media in India compared to a mere 40.4 million in Pakistan, and among them not even one hundred thousand users harness social media ideologically to combat anti Pakistan propaganda and misinformation.

Basically, Pakistani people use social media for photo/video sharing, networking and expressing their views regarding to the ongoing political situation within Pakistan. Pakistan would be dominating the entire world's cyber warfare if its youth spend only 20% of the their time sharing positive news and exposing misinformation about Pakistan instead of trolling and abusing the political rivals on social media. The enemies are sharing 1000's of fake photos/videos of Balochistan, Khyber Pakhtunkhwa, Sindh and FATA on daily basis, systematically manipulating Pakistan's social media with clever misinformation, but only few Pakistanis are countering them.

The situation is completely different on the other side of the border as India has quietly divised a plan to create a new tri-service agency for cyber warfare. The Defence Cyber Agency will work in coordination with the National Cyber Security Advisor. It will have more than 1,000 experts who will be distributed into a number of formations of the Army, Navy and IAF.

According to reports, the new Defence Cyber Agency will have both offensive and defensive capacity. The Defence Cyber Agency is seen as a precursor of a cyber command. After reports that Russia meddled in the US elections by hacking machines and creating propaganda on the internet and the recent ransomware and other cyber attacks being attributed to North Korea, cyber warfare is gaining importance.

Summing up the debate, we should make a resolve to avoid generic use of social media and to utilise the platform for bigger purposes to respond to India and the enemies of Pakistan in much the same manner as our ancestors did through the mobile radio station.

The Kashmir cause and Khalistan, Nagaland, Tripura, Manipur, Assam and Bodoland movements should be supported through social media to inform the international community about these issues. We should also avoid engaging in skirmishes on the basis of ethnic and provincial differences as that would serve Indian purposes. We should ignore and avoid engaging with general "Afghaniis" and their journalists as they are just a distraction created by RAW.

As many as 65 separatist movements are currently active in India and we should study and fan the flames of these movements. Keep in mind that whether you take the responsibility of fighting the warfare or not, India is definitely inflicting damage on this platform. The good news is that Pakistan is winning Cyber Warfare even without any support or help from the government and security agencies just because Pakistanis are patriotic as a Nation. Imagine what are we capable of doing if the government creates and invests in Pakistan Cyber Defence Force.